ThinPrint Engine
The On Premises and Private Cloud Print Management Software for Remote and Virtual Desktop Environments
Professional IT environments require solid and reliable print management. This is guaranteed by the cross-platform print solution ThinPrint. The leading print solution for remote and virtual desktop environments ensures full control over virtualized print architectures – regardless of whether they are Microsoft, VMware, Citrix, Parallels, or heterogeneous environments. The easy-to-deploy print management system relieves IT administration by conveniently managing all enterprise printers and printer drivers. Whether connecting branch offices, hybrid work or a private cloud – a wide range of ThinPrint functions ensure fast and secure remote and virtual desktop printing.
---
High-availability printing thanks to load balancing, failover and an early warning system
Printing is still a crucial factor in many business processes. However, due to the elimination of the print server cluster function since Windows Server 2012, printing is missing an important safeguard. ThinPrint closes this gap with its easy-to-implement solution for high-availability printing, which combines server clustering with dynamic resource distribution.
A special early warning system prevents spooler failures on print servers and desktop computers. Users benefit from uninterrupted workflows and high-performance printing thanks to failover and load balancing for print servers and clients.
Radical reduction of the IT budget
ThinPrint handles all printing processes via a central server to reduce the load on application servers and virtual desktops and prevent printing from interfering with other processes within the IT infrastructure. At the same time, companies can consolidate their print servers to reduce costs, as ThinPrint eliminates the need for local print servers in branch offices. This is where the cost-effective ThinPrint Hub print appliance comes to the fore. This enables companies to drastically reduce their hardware and operating costs and far better use existing IT resources.
Highest security for all print jobs – even without VPN
Every print job is a potential security risk for companies. That's why ThinPrint sends print data TLS/SSL encrypted, protecting even highly-sensitive business documents. Using printers with integrated ThinPrint technology even enables end-to-end encryption all the way to the printer.
With ThinPrint, companies no longer need expensive VPN connections to print securely in remote offices. For such scenarios, ThinPrint Secure Tunnel sets up a secure print tunnel to corporate headquarters, ensuring uninterrupted TCP/IP printing even to masked networks. Mit ThinPrint's pull printing solution, companies can additionally increase print security, as print jobs are only executed when employees authenticate themselves at the printer.
Connect branch and home offices simply and affordably
With ThinPrint, branch offices can be integrated efficiently into existing IT structures and are managed centrally and affordably. The ThinPrint Hub, a virtually maintenance-free, centrally manageable IoT device, replaces local print servers in branch offices and integrates any number of printers into the corporate network. This eliminates the need for VPN for printing in remote offices. Local printers at home workstations can be integrated into the corporate network just as conveniently. Features such as adaptive ThinPrint compression or automatic printer mapping ensure that employees always print with high performance when accessing the system remotely from any location.
Maximum performance through perfect compression
With ThinPrint's adaptive compression, companies reduce their print data volume by up to 98%. Print jobs are compressed even when transmitted via printer shares or triggered by native drivers. Regardless of whether printing in remote offices or via the WLAN connection within the company headquarters – print data is reduced as best as possible on all routes. In conjunction with connection-oriented bandwidth management, ThinPrint always ensures fast print output and significantly reduces the load on the entire corporate network.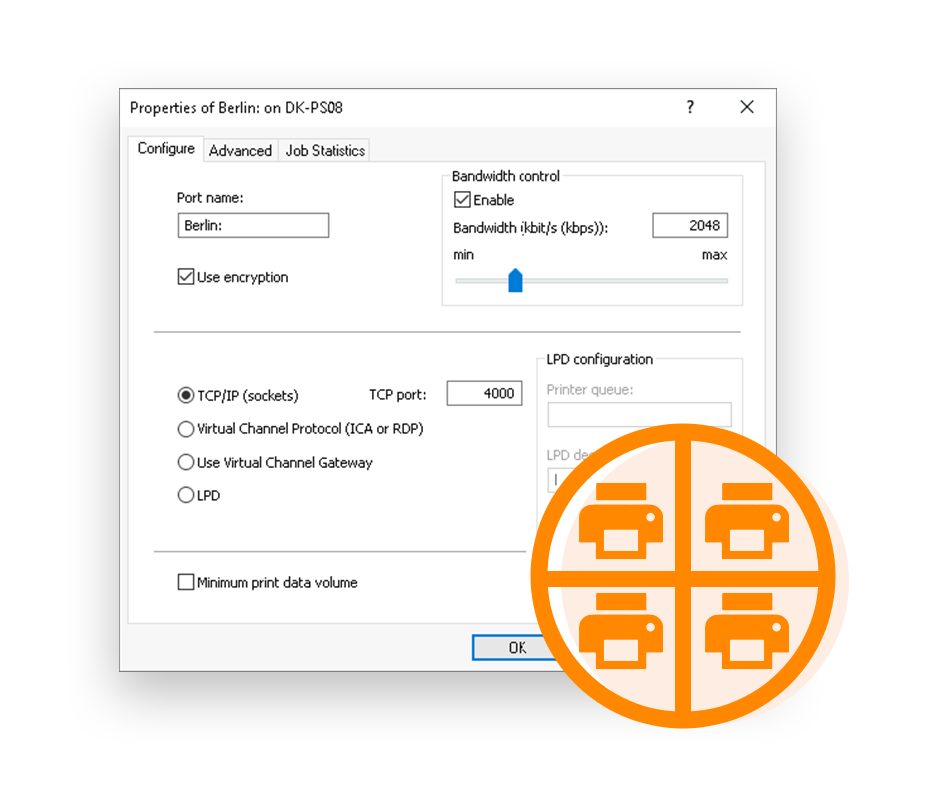 Optimal use thanks to connection-oriented bandwidth management
Thanks to connection-oriented bandwidth management, companies always have full control over the bandwidth used and can make best use of their WAN/Wi-Fi connections. IT administrators simply specify the maximum bandwidth available for printing per connection or remote office.
The advantage over simple, user-based methods of limiting bandwidth is that even if many employees print large documents at the same time, the print data can never exceed the specified bandwidth. Furthermore, users can reduce the bandwidth on the client side in order to increase application performance.
Driver free printing: never again bother with printer drivers
Thanks to V-Layer technology and a virtual printer driver, the ThinPrint Output Gateway, administrators keep physical and virtual desktops and terminal servers free of native printer drivers. The original printer drivers are now only kept on the central print server.
ThinPrint thus puts an end to the tedious setup and management of printer drivers as well as printing problems caused by incompatible drivers – all while fully supporting all printing options. Whether adding new printers, replacing PCs with virtual desktops, or integrating new employees, home offices, or small or large branch offices into the corporate IT environment, all changes and adjustments can be managed quickly and easily thanks to ThinPrint.
Optimize your printouts with advanced printing features, including finishing options
Companies are striving to make their daily work processes, including printing, efficient. Multifunction printers are an immense help here. However, finishing options are not supported in many virtualization solutions, and only basic print functions are displayed to users.
Thanks to ThinPrint's virtual printer driver, employees can easily find finishing options such as punching, stapling and binding in a uniform and clear print dialog. The result is that companies can use the full performance spectrum of their multifunction printers and benefit from efficient office printing.
Access to the right printer anytime and anywhere thanks to automatic printer assignment
No matter how users organize their everyday work, which devices they use and where their corporate applications run, they want to print smoothly – at headquarters, in branch offices, mobile or in their home offices. ThinPrint AutoConnect enables fast printer assignment and ensures that the desired printers with all printing functions are always available in all scenarios.
Administrators automatically provide the right network and local printers with the right settings depending on the client, user, location or connection. Printers can even be assigned certain properties via templates – for example, limited bandwidth for all home office printers.
Full control of printing costs through tracking and reporting of print volume
ThinPrint's Tracking Service monitors the entire print environment, capturing enterprise-wide print activity and any print costs incurred. Print jobs and paper consumption can be assigned to individual printers and user groups. Using a web browser, the information collected on print volume can be analyzed flexibly and in detail.
In a clear graphic display, companies are shown the main causes of high printing costs and can identify the corresponding potential for cost savings. Based on this, capacities can be better used, and hardware can be deployed more efficiently. The ThinPrint Tracking Service meets internal and external compliance and auditing requirements in all industries.
More powerful hardware through integrated ThinPrint technology
A particular advantage of ThinPrint technology is its broad hardware support. Almost 80% of the thin clients on the market already support ThinPrint. Well-known print server and printer manufacturers have also integrated the ThinPrint client software into their hardware. This allows printers to be addressed as network printers without any additional administration workload and thus allows direct processing of highly compressed ThinPrint print data.
Other ThinPrint features such as encryption of print data are therefore also available end-to-end right up to the print device, even when using virtual desktops. ThinPrint certifies highly recommended devices with its ThinPrint Certified seal of quality.
Intuitive printing thanks to printer self-service
Thanks to ThinPrint Printer Self Service, employees can print more flexibly than ever before. With the user-friendly printer self-service, users can conveniently add printers to those already pre-selected. With a simple printer search, they can instantly find newly purchased printers, printers with specific printing options, or printers they want to use when visiting branch offices. Users enjoy the flexibility of printing, while IT departments and helpdesks are pleased with the reduced workload.
Significantly fewer print-related helpdesk calls
ThinPrint's virtual printer driver, the ThinPrint Output Gateway, is based on 20 years of experience with tens of thousands of enterprise customers and millions of printers in the most diverse environments. No other solution today supports more printers than ThinPrint.
The ThinPrint Output Gateway can be used universally – with all printers from any manufacturer, all protocols and whether on print servers, application servers, physical or virtual desktops. The virtual driver provides a uniform and user-friendly user interface for all printers and in all application scenarios. Thanks to ThinPrint, there are neither printing problems nor helpless users, IT administration can sit back and relax.