The Easiest Way to Print in Branch Offices
ThinPrint Hub
Print management in branch offices presents enormous challenges in terms of administration, cost, and data security – especially when desktops and applications are deployed from the main office to users. All too often suboptimal network workarounds are used or VPNs are required just to enable printing.
Together with the ThinPrint Engine and the plug n' play ThinPrint Hub, you can centrally manage printing in branch offices, eliminating the need for any local print servers or VPNs.
How It Works
Plug In a Hub & Eliminate Your Local Print Servers
Simply connect the ThinPrint Hub to a branch office network to get started. Printers are found automatically and easily added to the user's printer list via the web user interface, even if thin clients and zero clients are in use. Print servers are no longer needed and your network architecture is more intelligently organised in the process.
Centrally Manage ThinPrint Hubs When Needed
Does a printer need to be changed? Or a certificate updated? Use the ThinPrint Hub Remote Management tool to manage and update all of your ThinPrint Hubs remotely over our cloud solution ezeep. Centrally provision certificates, firmware updates and configurations of all types and distribute them to all devices with just a few clicks.
Highlights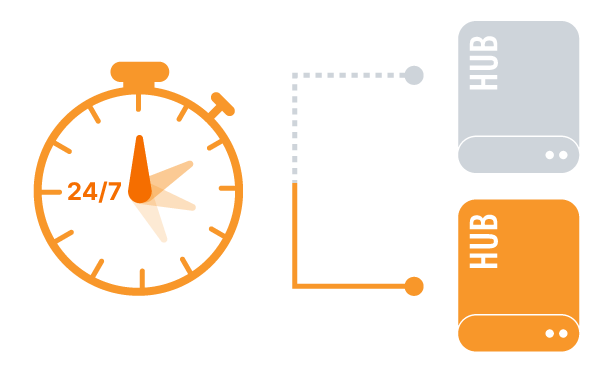 High-Availability Printing
Using a second ThinPrint Hub in a branch office enables load balancing and failover in case of faults. If one ThinPrint Hub fails, then the second device automatically takes over. This means that full reliability and uninterruptible productivity are ensured when printing.
Delivers Secure Printing – Encrypted and Without VPN
Print jobs are compressed and transferred securely via the ThinPrint Secure Tunnel, eliminating the need for branch offices to maintain VPN connections for printing. The TLS/SSL encrypted transmission of print data right to the ThinPrint Hub ensures reliable protection of all your print data. Even network printers in masked networks can print seamlessly via the ThinPrint Secure Tunnel.
Automatically Creates Printers
The ThinPrint Hub automatically finds your printers with its search feature and if required, automatically adds them to the printer list. Found devices are listed, including the printer ID, status, printer name, model, port and IP address. This eliminates the need to manually create printers on the ThinPrint Hub. In addition, IT departments can now easily connect printers in remote and branch offices to the central print server and also manage them remotely.
Monitor Your Devices
Thanks to SNMP monitoring, the ThinPrint Hub shows you the current status of all your printers. So, you always know exactly what is going on with your printers and can act accordingly in the event of paper shortages, paper jams or low toner levels. With an SNMP monitoring tool of your choice, you can also query the status of the ThinPrint Hub.
Printing Without Any Compromises
The ThinPrint Hub supports the proven ThinPrint features such as bandwidth control, compression and print data streaming. These ensure rapid printing and trouble-free workflows even with low bandwidths.
Excellent Value for Money
The ThinPrint Hub integrates any number of network printers, regardless of the printer model or manufacturer. In addition, up to four USB printers can be connected as network printers to each ThinPrint Hub.
Easily Migrate to the Cloud At Any Time
With the Cloud Connect feature, companies using Azure Virtual Desktop and ThinPrint can access the ezeep Azure cloud via the ThinPrint Hub and utilize our cloud printing platform – including cloud rendering – with ezeep Blue.
Are you interested? Test the ThinPrint Hub now!
If you want to try the ThinPrint Hub free of charge and without any obligation for 30 days, simply fill out the following form.